I reworked my Teensy 3.1/3.2 carrier design for Odroid HC1 to a much simpler form, suitable for Teensy LC (a USD $12 32-bit microcontroller by
http://www.pjrc.com
, also distributed by Adafruit, SparkFun, and others). This same carrier will work for Teensy 3.0, 3.1, and 3.2 too, but the internal pads won't be exposed. (I took down the old design, because the board traces would not have been able to handle the 3A+ currents at 5V. And it was too complicated to start with.) Do note that Teensy LC can provide oly about 100mA total to peripherals at 3.3V.
The board should sit flush on the mounting screws/studs on the HC1. There is an additional 3mm hole that should be on top of the SATA connector, for a rubber foot (a PC fan rubber stud/screw should work).
In addition to the TXS0102DCTT (SM8 footprint), there are just two 0.1µF 0603 ceramic capacitors, a 47kOhm 0603 resistor, two through-hole 1N4001 diodes (or similar), the female header to connect to the Odroid UART, and some standard pin headers (three additional power and three ground lines in particular).
Here's the top of the board. The four-pin header at center top has the I2C pinout for OLED displays (GND, VCC, SCL, SDA). I won't use pins here myself; I'll solder a short (~ 5cm) flat cable directly here, and to an OLED display.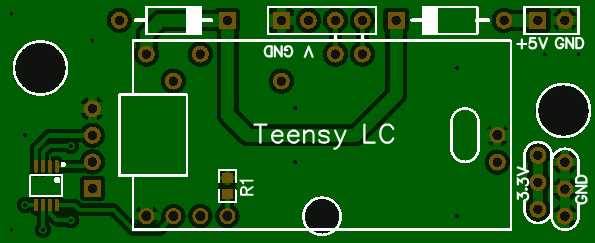 The bottom is very bare, just the two caps for the TXS0102. I want it to sit flush. The pins need to be carefully cut to correct length before soldering, and maybe add a sheet of polycarbonate to ensure nothing shorts between the board and the Odroid. (This is flipped horizontally, compared to the above picture.)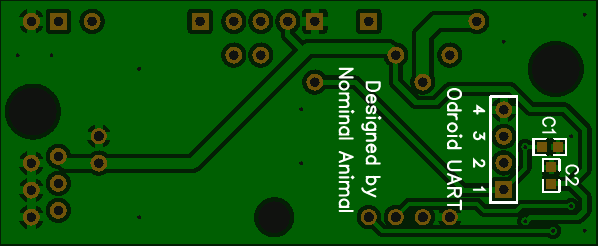 (The traces are really wide, especially the 3.3V/5V and ground traces, but I wanted this to work safely on 1 oz copper PBCs, and there was room.)
There are 20 unused pins on Teensy LC, including another I2C bus, two SPI buses, PWM outputs, analog inputs, and digital pins with interrupt capability (for rotary encoders; I might use some mouse scroll wheel ones).
This time, the schematic is quite simple, too: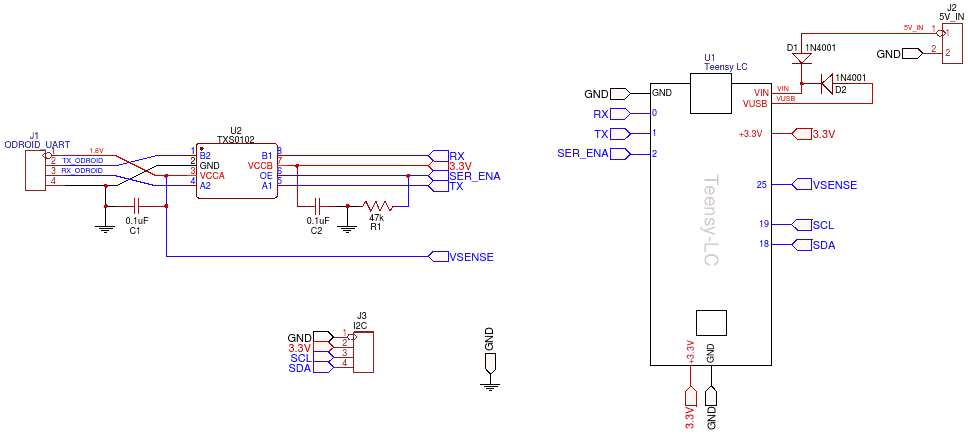 (I already goofed a bit: I ordered a batch of five boards using a previous version of the PCB, with a SSOP8 footprint for the TXS0102. Only afterwards did I realize that it might not be available at all (and some vendors confuse SM8 and SSOP8), but the SM8 footprint is very easily available, even in my local supplier.)
This board is in the public domain at
https://easyeda.com/NominalAnimal/
, but do note that this is still untested work in progress.