This is the first version of my Debian Stretch image for the ODROID XU3/XU4-Series.
It is uses the
4.14 LTS Kernel
by default, as a Kernel >= 3.16 is require for Debian Stretch, and also for G2D support on the Desktop.
It's a headless server image only with user root. But it has all my repositories included, which allows for easy installation and updates of packages such as Kernel and Headers and other packages.
The image has my usual setup: means on first boot it's resizing the rootfs partition and configures SSH. It will automatically reboot after the initial setup after which this image is ready to use.
Kernel and headers are already installed if you need to build your own drivers.
A few basic tools such as htop, mc, vim and bash-completion are already installed for your convenience.
Download:
https://oph.mdrjr.net/meveric/images/St ... XU4.img.xz
md5
sha512
sig
Size compressed: 108 MB
Size uncompressed: 584 MB
Default Login:
root
Default Password:
odroid
It's ready to be used as a server image.
First things first:
Since there's constantly new development for this image and ODROIDs in general the
First
thing you should do after the image is up and running is to install
all
updates:
How to convert the image into a Desktop image:
The image can easily converted into a full Desktop image looking similar to this: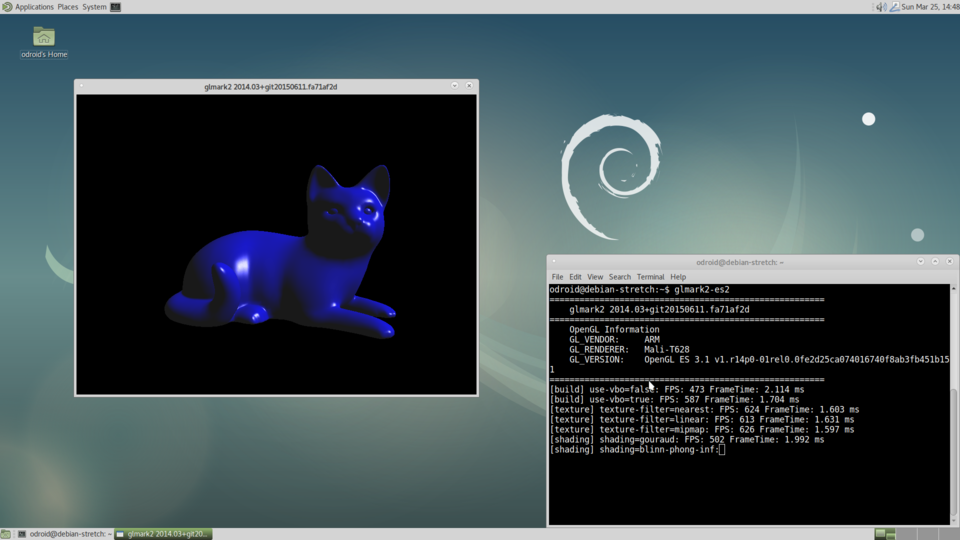 I created a setup tool that's already preinstalled:
Hints:
Changing language:
If you install a Desktop environment you should already have keybord-configuration installed, it will ask upon the first installation what keyboard layout it should use.
This configuration is for your X11 Desktop so you have your desired keyboard layout.
For console you need to install console-setup to do the same, so just in case:
You probably want to set timezone as well
Installing Chromium Webbrowser (with hardware acceleration):
Chromium is part of the Default Debian Stretch repository and can be installed with:
Therefore you need to create a config file under
/etc/chromium.d/
and add the following line: