I tried to run the open source PSP emulator PPSSPP on the ODROID.
The result was amazingly great and I want to share it.
I installed the PPSSPP apk file via
http://www.ppsspp.org/
on the ODROID-U3.
The name of emulator is PPSSPP and version number is 0.9.6
Full source code of PPSSPP is available on their github.
https://github.com/hrydgard/ppsspp
[youtube]
https://www.youtube.com/watch?v=2xPzOM29v5w
[/youtube]
The Xbox-360 wired controller is connected to ODROID.
Please enjoy above video even I'm not a good player of Tekken.
Here is a long recommended settings on the PPSSPP configuration.
Graphics
Rendering mode
Mode : Buffered rendering
Framerate control
Frame skipping: Auto
Prevent FPS from exceeding 60: Check
Alternative speed: 150%
Features
Postprocessing shader: Off
Stretch to display: Check
Mipmapping: Uncheck
Performance
Rendering resolution: 1xPSP
Hardware transform: Check
Software skinning: Check
Vertex cache: Check
Low quality splines and bezier curves: Check
Texture scaling
Upscale level: Auto
Upscale type: xBRZ
Deposterize: Uncheck
Texture filtering
Anisotropic filtering: Off
Texture filter: Auto
Hack settings
Timer hack: Uncheck
Disable alpha test: Uncheck
Disable stencil test: Uncheck
Always depth write: Uncheck
Texture coord speedhack: Check
You can also disable the on-screen controller.
If the joystick key map is not correct, you can change it with "Control mapping" menu in the settings.
The most important thing !!
Change the governor to performance first to have a better emulation speed.
Open a terminal app and type below two lines.
Code: Select all
# su 
# echo performance > /sys/devices/system/cpu/cpu0/cpufreq/scaling_governor 
Without this change you will have a poor game experience.
Also note that Android runs in 720p mode.
I think the emulation speed will be degraded slightly in 1080p mode.
I could play some other great PSP games smoothly on ODROID-U3.
Monster Hunter Freedom-unite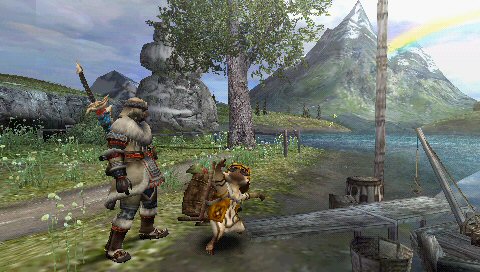 Final Fantasy 7