This is the first version of my Debian Stretch image for the ODROID N2.
It is uses the 4.9 LTS Kernel from Hardkernel.
It's a headless server image only with user root. But it has all my repositories included, which allows for easy installation and updates of packages such as Kernel and Headers and other packages.
The image has my usual setup: means on first boot it's resizing the rootfs partition and configures SSH. It will automatically reboot after the initial setup after which this image is ready to use.
Kernel and headers are already installed if you need to build your own drivers.
A few basic tools such as htop, mc, vim and bash-completion are already installed for your convenience.
Download:
https://oph.mdrjr.net/meveric/images/St ... -N2.img.xz
md5
sha512
sig
Mirror:
http://fuzon.co.uk/meveric/images/Stret ... -N2.img.xz
md5
sha512
sig
Size compressed: 141MB
Size uncompressed: 865 MB
Default Login:
root
Default Password:
odroid
It's ready to be used as a server image.
First things first:
Since there's constantly new development for this image and ODROIDs in general the
First
thing you should do after the image is up and running is to install
all
updates:
How to convert the image into a Desktop image:
The image can easily converted into a Desktop image looking similar to this: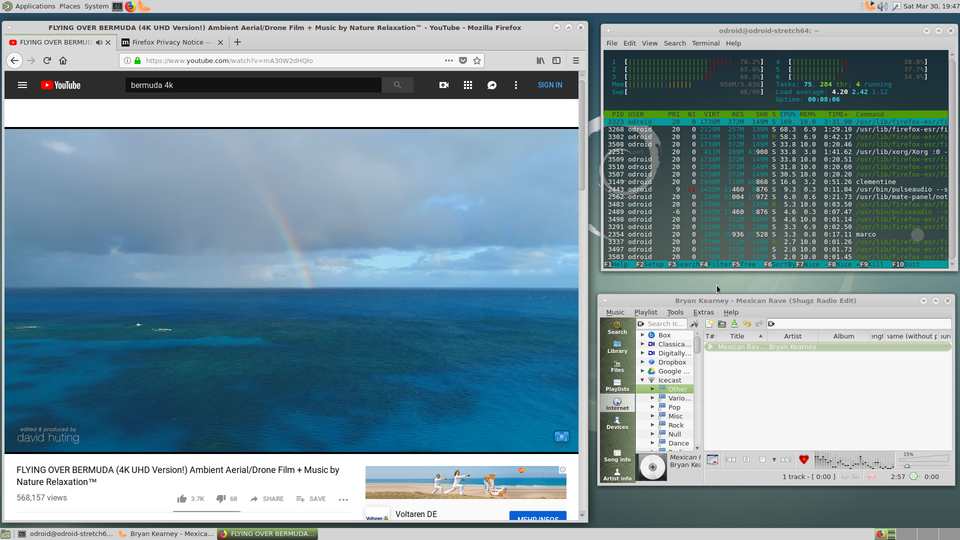 I created a setup tool that's already preinstalled:
Please Note:
There are no X11 GPU drivers for the ODROID N2 which means there is no 3D acceleration available for Desktop applications. You can still run fbdev applications such as Kodi, glmark2-es2-fbdev, retroarch or others from the desktop, but it will be using the entire framebuffer and the desktop in the background can cause issues (such as clock shining through or other desktop applications).
Hints:
Changing language:
If you install a Desktop environment you should already have keybord-configuration installed, it will ask upon the first installation what keyboard layout it should use.
This configuration is for your X11 Desktop so you have your desired keyboard layout.
For console you need to install console-setup to do the same, so just in case:
You probably want to set timezone as well
Setting up WLAN from command line
viewtopic.php?p=257420#p257420
Webbrowser:
Since the N2 does not have X11 GPU drivers none of the webbrowsers available will have hardware accelerated browsing.
Means you won't have "smooth scrolling", "WebGL" or other 3D features that require working hardware acceleration on the Desktop.
I suggest using FireFox for webbrowsing, as it's faster than Chromium and supports YouTube videos up to 1080p.
If you want to use Chromium anyway, make sure to start it with the option --use-gl=none or else it will try to use MESA with Software rendering which is very slow and will cause even more slowdowns.
Kodi with hardware acceleration:
Kodi with hardware acceleration can also be installed with the tool
setup-odroid
and I'd suggest to use this rather than manually trying to install it, as there are modules that need to be loaded, and permissions to be configured in order to get Kodi working.
Once again it's running with fbdev, and although you can start it from desktop, the desktop can cause some issues in displaying.
General Notice:
Most of the applications I provide in my repositories are for X11 systems, since the N2 does not support X11 there's a high chance they won't work.
Some of them (that do not require a GPU) will work, others may not.
I also offer specific fbdev applications such as retroarch for example which allow you to utilize the GPU of the N2, but won't work "nicely" with a desktop, please keep that in mind when you use my image.