Please Note: This image is no longer supported, as many projects moved away from supporting Debian Jessie for arm64, it's not possible to support Debian Jessie any longer in a meaningful way. Please use Debian Stretch instead.
Here's a very minimal Debian Jessie image for the ODROID C2.
It's a headless server image only with user root. But it has all my repositories included, which allows for easy installation and updates of packages such as Kernel and Headers, or Kodi, EmulationStation and other packages.
The image has my usual setup: means on first boot it's resizing the rootfs partition and configures SSH. It will automatically reboot after the initial setup after which this image is ready to use.
Kernel and headers are already installed if you need to build your own drivers.
A few basic tools such as ntp, htop, mc, vim and bash-completion are already installed for your convenience.
Download:
http://oph.mdrjr.net/meveric/images/Jes ... -C2.img.xz
Size compressed: 119MB
Size uncompressed: 679 MB
Default Login:
root
Default Password:
odroid
It's ready to be used as a server image.
First things first:
Since there's constantly new development for this image and ODROIDs in general the
First
thing you should do after the image is up and running is to install
all
updates:
How to convert the image into a Desktop image:
The image can easily converted into a full Desktop image looking similar to this: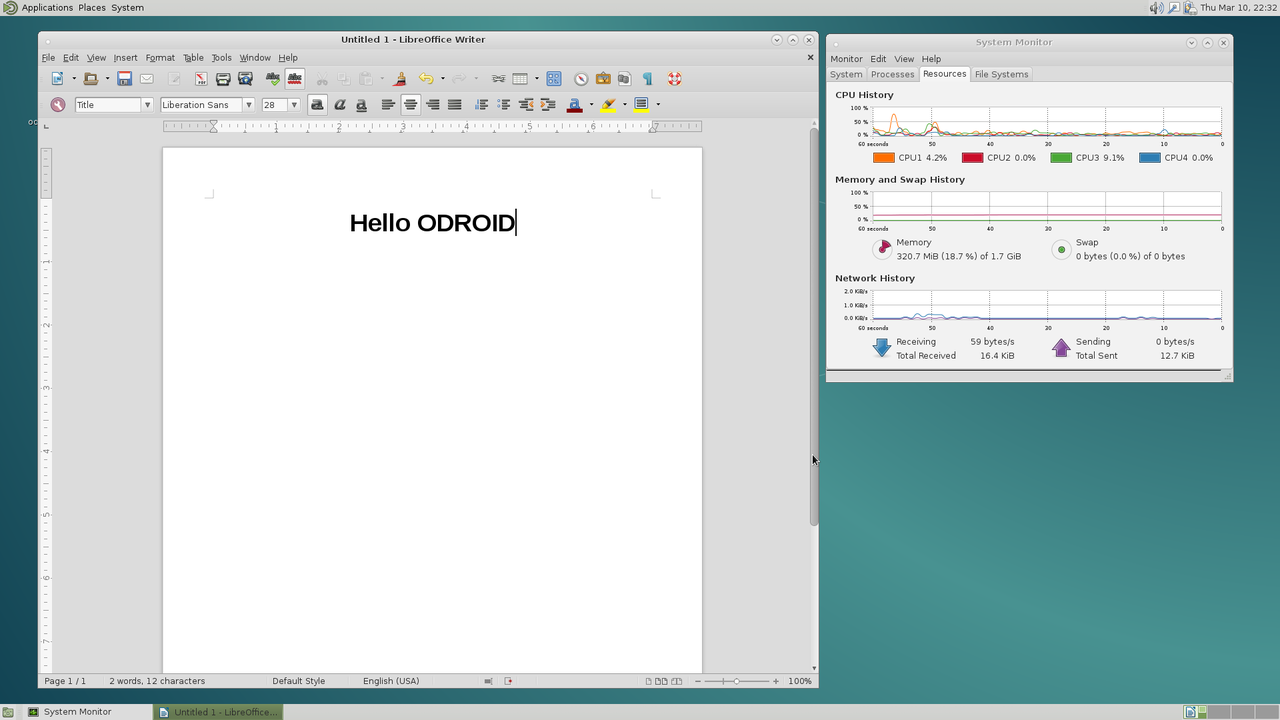 I created a setup tool that's already preinstalled:
You can also use it to install
Kodi
with Hardware acceleration.
If you find any bugs please let me know
Have fun
Hints:
Changing language:
If you install a Desktop environment you should already have keybord-configuration installed, it will ask upon the first installation what keyboard layout it should use.
This configuration is for your X11 Desktop so you have your desired keyboard layout.
For console you need to install console-setup to do the same, so just in case:
You probably want to set timezone as well
Sound Delay in Pulse-Audio:
If you experience sound delay in applications this might be due to the use of pulseaudio, i found installing a newer version of pulseaudio can fix that
Installing Chromium Webbrowser (with hardware acceleration):
Therefore you need to create a config file under
/etc/chromium.d/
and add the following line:
DVB support:
I've package a lot of Kernel modules that allow you to use DVB devices such as USB-DVB sticks, you can install them with:
Development notes:
ODROID C2 is something "new" and as the C1 when it first came out it still has a lot of issues, that needs to be solved.
There is one statement from @odroid in the
About ODROID-C2
thread that I'm not willing to agree with:
odroid wrote: Side notes:

1. There is no SPI bus on the C2. The S905 SoC doesn't have it. So many SPI based add-on boards are not compatible with C2.

2. There is no on-board RTC. The S905 SoC doesn't have it. We will consider making an add-on board.

3. The wrong alpha-blending issue has been fixed in the S905. So we don't need to use the DDX blending any more.

4. The public version of the S905 Datasheet will be released in March or April hopefully. We are checking the firm schedule.

5. Ubuntu 16.04(LTS) ARM64 has some missing packages i.e., Chromium. It seems to have some compiling/linking issue with 64bit gcc/glibc.

6. Ubuntu/Linux Mali GPU driver works only on the fbdev at this moment. X11 Mali drivers will be available in March or April.

7. OS images and build guides are available in our WiKi.

http://odroid.com/dokuwiki/doku.php?id=en:odroid-c2
3. The wrong alpha-blending issue has been fixed in the S905. So we don't need to use the DDX blending any more.
I don't think that is really "solved"
First time I tried I encountered the same Alpha issue as it exists on the C1, and was surprised why it's working on the HardKernel image.
Later I found a script that HardKernel uses to "fix" that issue:
If I use this "hack" and start Kodi in 32bit, I can NOT watch a movie in Kodi. The video frame will stay completely black. So there seems to be something really "fishy" with this.
If I do NOT use this "hack" from HardKernel the Desktop has the Alpha issue, but I can watch Kodi just fine.
So I don't think this really fixes the Alpha Issue.
Also I had a lot of trouble, getting sound correctly to work, and I'm not sure if it's really stable.
I also had to add a lot of groups to a new user, to actually get Kodi and other programs to work with mouse and keyboard.
Fbdev drivers are a new challenge as well. I probably have to work around a lot of issue relating the use of Desktop and fbdev programs.
Still it's working for now.
Another challenge is the arm64 architecture. Only a few projects support arm64 many of which we are used to use do not. Chromium, many retroarch libretro cores, and tons of other programs do not support arm64 yet. Which makes it hard, yes even impossible to get certain programs to run.
Anyway, you should follow my
topic
about new releases and packages for the ODROID C2, packages will be flagged with "
:arm64
" if they are for C2 and arm64.
If you have wishes for what packages I should compile for the C2, let me know and I can switch priorities on packages to port, depending on the your wishes.