Hey guys, I know the first shipment of commercial ODROID-W's has not been released yet but I have already started purchasing and planning for this project. The idea is to put the ODROID-W into the base of a Gameboy Advance SP (GBA SP), add a battery, and controls along with sound. The screen used will not be the original GBA SP screen, instead I will be using a 2.8in TFT w/Capacitive Touch from adafruit.
Specs:
ODROID-W
Case will be GBA SP Shell (from ebay) - Gold Color
2.8in TFT w/Capacitive Touch, 240×320 pixels, and 4 white-LED backlight
Mini Amplifier with mono speaker (since the system is so small, there is no point in having Left and Right audio, they will be merged into one speaker)
1250mah Samsung phone battery (subject to change)
Nintendo 3DS joystick for movement in games
A, B, Start, Select, and 2 extra buttons to be able to play SNES and programmable for other emulators, etc.
USB HUB (4 total USB ports) - USB Wifi adapter will be wired inside the case, 3 will be relocated to the case (where the GBA Cart slot used to be).
Ok now that you know the specs, lets get on with how the project will be planned out...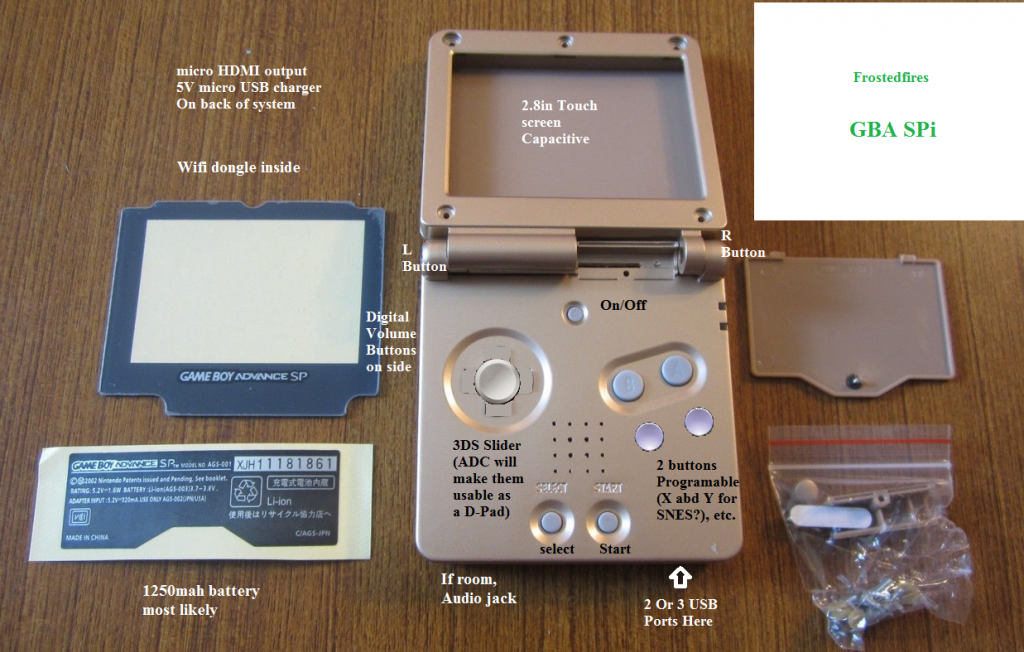 As you can see I will not have a D-Pad, there will not be enough room in the case annnnnnd since the ODROID-W comes with an ADC built in, why not utilize it's full potential! The 3DS slider's analog inputs (X and Y coordinates) will be converted into your typical up down left and right so it is usable in all emulators (sounds fun to play Gameboy games and NES games with an analog stick
) I will try and utilize the 3DS pad as a mouse too if I can figure it all out.
As for the four buttons on the right (A, B, and two blank ones) I will have them wired up to the GPIO pins as (A, B, X, Y) however in the emulators you can change the buttons to their correct order. An example is I can use the layout of SNES so the top two buttons (A and B) can be the Y and X like on the original controller. And the bottom two buttons can be the B and A button.
The brightness button on the GBA SP case will be the on/off button. However this is subject to change.
Select and start will be wired to the GPIO pins too and configured in the emulators.
I want to use digital volume instead of using a potentiometer wheel because I find them easier to use (personal opinion I guess).
Battery indicator is built into the ODROID-W so I will be able to monitor battery usage on-screen like a laptop would.
I know N64 doesn't run well on the RPi but I know Mario 64 is semi playable with overclocking so I hope to be able to try that out on this system, making it a super portable Mario 64 device sort of...
I chose the GBA SP case over the others because I love clamshell devices, they prevent many scratches on the screen and are extra pocket friendly. Since the ODROID-W is so tiny it will fit without any problem in the case.
Of course my handy dremeling skills will be able to make the inside smooth and in case you were wondering I will put a hollow GBA Cartridge into the slot and epoxy it in with the USB ports cut out. That will prevent the Hollow hole that the shell has. As for the micro SD card, it will be attached to the ODROID-W like it is right now (no relocation), it can be simply removed by opening the Battery cover on the back of the device. I will make it open and close by a strong magnet instead of the screw.
Well lets hope it all works out great
Will take me a few months to complete I predict.